The Multicontroller SMC 4
The SMC 4 Multicontroller is an electronic control and monitoring device that provides increased safety for hoists with pole-changing or frequency-controlled drives. By permanently monitoring the condition of the hoist, the SMC 4 contributes to safe operation and proper hoist use.
Ensuring the safe and proper use of your hoist is important. The STAHL CraneSystems SMC 4 Multicontroller gives you access to various safety and control functions in a simple, easy-to-use interface. Versatile and flexible, the SMC 4 gives you the ability to scale the device to your unique application needs with numerous functional and safety features as well as improved communication interfaces. By combining the features of the SMC 4 with the power of Magnetek's industry-leading IMPULSE®·VG+ frequency inverter, including Advanced Ultra-Lift at partial load, you get safety and performance you can count on. All safety-related functions and features have been updated and improved in accordance with applicable standards for lifting equipment to EN 14492-2, EN 15011 and EN 13001-2. The SMC 4 also provides integrated reliable speed monitoring in accordance with EN standards, therefore Performance Level PL c to DIN EN ISO 13849-1 is attained. The TÜV-certified microprocessor and operating system come in Performance Level PL d. This eliminates the need for an additional safety Programmable Logic Controller (PLC) for the Intercept Rope Drum Brake.
Features and Functions
The SMC 4 Multicontroller offers a compact overall solution for controlling a hoist and can be configured and customized to application needs. Learn more about the wide range of features and functions of the SMC 4 that help improve safety and increase the service life of your hoist.

Product Overview

Modular hardware and software

Option Module for six additional programmable inputs and outputs

Optional rope drum brake in Performance Level PL d

Extended operating data acquisition and exact fault diagnostics

Fail-safe data storage

Configuration app access for reading out and processing data

Amplifier for up to 500m cable connection via RS485

Varnished circuit boards to protect against condensation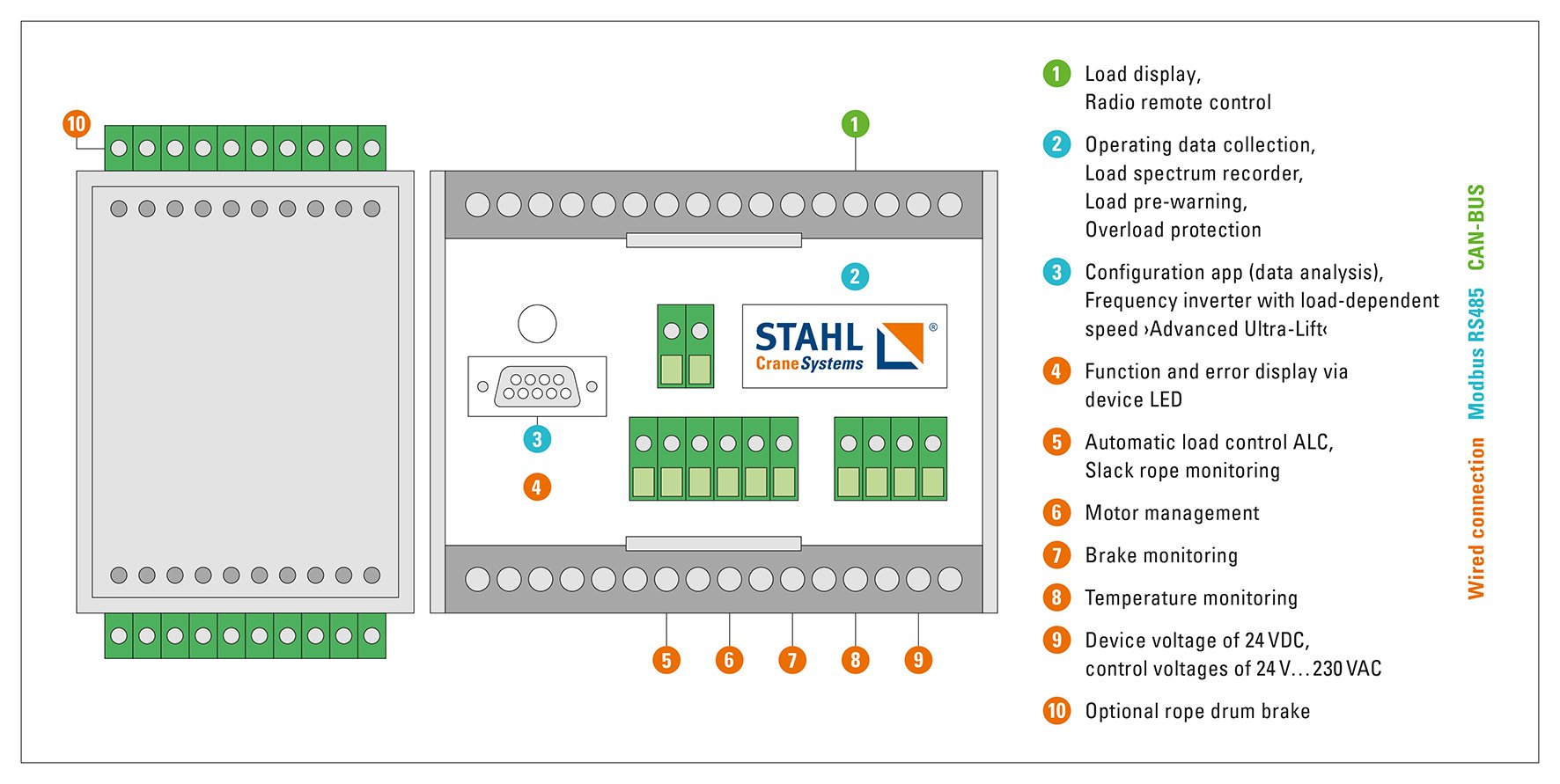 New with the SMC 4 Multicontroller:
IMPULSE®·VG+ Frequency Inverters From Magnetek
A frequency inverter is always advantageous when productivity is to be supplemented by an extended speed range. With the Advanced Ultra-Lift feature, when the hoist is not at full capacity, the speed can be safely increased to improve productivity and efficiency. Reducing the lifting speed, in turn, allows the load to be set down gently and positioned precisely. By means of a frequency converter, the SMC 4 Multicontroller provides a range of important safety capabilities, including functional safe shutdown in case of overload, speed monitoring, improved ALC automatic load control, brake and temperature monitoring, motor management, and slack rope cut-off. It also enables control and monitoring of the hoist speed with communication via the serial Modbus interface.

Optional Rope Drum Brake
Designed as a safety intercept and holding brake, the rope drum brake prevents the load from falling even if the gearbox breaks. It also serves as an optional safety brake and is available in Performance Level PL d. The SMC 4 Multicontroller monitors the speed of the rope drum and all functional control actions. The safety brake engages as soon as the intended speed limit is exceeded. The holding brake engages with a time delay after each stop and secures the suspended load. The control system ensures smooth operation of the rope drum brake by means of a speed sensor and pawl position switch. By monitoring the brake and the release time, the rope drum brake and complete motor control is monitored. The braking torque between pawl ring and rope drum can be checked and set at any time. The rope drum brake is available with an explosion-proof design as an option if needed.