Kissing (Germany), 5 January 2021 – Columbus McKinnon Corporation (CMCO) has brought together its brands, including Pfaff-silberblau, a brand of the German subsidiary Columbus McKinnon Engineered Products, and Pfaff Verkehrstechnik, on a new global website that has been very well received by customers since going live in mid-December 2021 and has already initiated many projects currently underway due to its optimised web-based interaction.One reason for the success and the high level of acceptance is the fundamentally improved user experience, since many new features have also been integrated in addition to familiar functions such as the popular Pfaff-silberblau CAD configurator "CAD & go".
New features include an intelligent search function, comprehensive document libraries, many contact options that lead directly to the right contact person, and a Google-based location search. Users of mobile devices can also access the range of products and services while on the move thanks to the responsive design.

Within the new CMCO website, the brand identity of Pfaff-silberblau will be further sharpened globally and the company's long tradition as a technology leader in components and system solutions for mechanical motion technology, lifting technology and rail technology will be highlighted even better in future.
International presence in a strong brand association

Website visitors can now access a comprehensive range of products and solutions for lifting, moving and positioning loads at a single address (www.columbusmckinnon.com) thanks to the joint presence of all the Group's brands. In total, the new website offers 17 brands under one roof, including German companies such as Stahl CraneSystems and Yale, as well as many international brands such as Magnetek, Duff-Norton and CM-Entertainment – all geared towards providing customers with intelligent motion solutions.

The synergy effects resulting from the joint website presence bring great benefits to the user, as all CMCO companies presented support each other in serving customers and present a much wider range of products and services on a unified brand platform. With just a few clicks, visitors can quickly and intuitively find cross-brand components and system solutions for their individual handling tasks.
Functions for searching and ordering more quickly

A new document library as well as the intelligent search function by keyword, brand or product deliver fast and precise results, including detailed product information and technical data. Thanks to the responsive design, visitors can conveniently browse and view the entire product portfolio of all brands on any of their end devices (computer, tablet or smartphone). The optimised location search facility (Location Finder) is supported by Google Maps and helps customers find and source suitable products more easily and conveniently than ever before. Customers can write to the right contact person directly from any part of the website using explicit e-mail buttons.

Language extensions increase internationality

The multilingual website is continuously being developed and the range of languages will be expanded over time. In addition to English and German, French, Spanish and other language versions are also planned.

New Columbus McKinnon website with the brands Pfaff-silberblau, Stahl CraneSystems and Yale under a single web address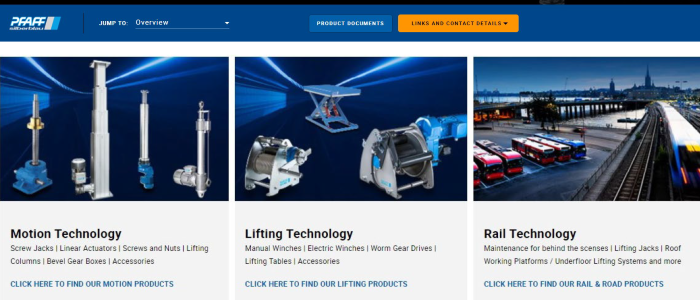 Pfaff-silberblau motion and lifting technology as well as rail technology present themselves uniformly under the CMCO brand umbrella
About Columbus McKinnon Engineered Products and Pfaff Verkehrstechnik

Columbus McKinnon Engineered Products GmbH, Kissing/Germany, is a subsidiary of the listed McKinnon Corporation (CMCO), Getzville/USA, a leading supplier of lifting and materials handling equipment. The company has ranked with its brand Pfaff-silberblau for many decades amongst the technology leaders in components and system solutions for mechanical motion and lifting technology. The portfolio ranges from sophisticated screw jack elements to innovative linear drives through to powerful lifting tables and wire rope winches. On the basis of these components, Columbus McKinnon Engineered Products also offers customized solutions for a wide range of different fields of application.

Pfaff Verkehrstechnik in Kissing/Germany is an affiliated company of Columbus McKinnon Engineered Products. As well as supplying transportation components, Pfaff Verkehrstechnik primarily supplies complete planning, installation and maintenance of turnkey jacking systems for rail vehicles used worldwide