Yale Lifting Solutions Works to Improve Mine Safety
Mining, Petroleum and Gas | Hoisting & Lifting Equipment | Safety and Training | by GIsela Clark | 27 Jul 2014
---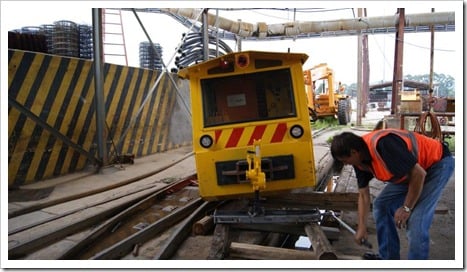 Yale Lifting Solutions, a subsidiary of Columbus McKinnon, has developed a product that significantly enhances safety and efficiency in underground mines. Located in South Africa, Yale Lifting solutions specializes in material handling needs of the mining industry and was well-suited to provide expertise for this application.
An Unsafe Practice
In underground mining operations, locomotives and hoppers operating on rails are used to transport ore and other materials. Derailing is a common occurrence, and getting the unit back onto the rails can be a very time consuming and extremely dangerous process. A common long-standing practice is to repeatedly jack up the locomotive and push it, until it's close enough to be dropped onto the rails. Needless to say, this re-railing method is very unsafe.
A Better Way Of Doing Things:

The Taurus Jack & Re-Railing Device
Yale Lifting Solutions recognized the current re-railing practice as unsafe and developed a patented re-railing device that could be used in conjunction with their existing Yale Taurus Jack.
The Yale re-railing device is placed across the rails. The Taurus Jack is then positioned on it and used to raise the front of the locomotive. After the unit is raised, the re-railing device can be manually operated to carefully move the locomotive sideways to align it with the tracks below. Once in place over the rails, the locomotive or hopper can be gently lowered on the rails using the Taurus Jack.
The re-railing device had to meet special weight and size requirements so it could be easily stored in the cab of the locomotive. One-person operation was also extremely important because sometimes train derailment occurs in a remote area of the mine and the locomotive operator has to re-rail the locomotive on their own.
After months of fine-tuning, Yale Lifting Solutions' re-railing device was approved by the mines and is now being requested at a rapid rate. This application story is a great example of how CMCO's commitment to improving safety and partnering with customers can help solve unique challenges with practical solutions.