Automation | Crane Systems | Hoisting & Lifting Equipment | Power & Motion Technology | By Casey Cummins | Aug 26, 2021
When operating an overhead crane, safety is essential. Whether it's protecting operators from dangerous swinging loads or preventing cranes from colliding with one another, overhead crane safety systems allow you to build intelligence right into your overhead lifting system, helping keep your workers safe and your facility accident-free.
Let's take a closer look at five overhead crane safety systems that can have a significant impact on your operations.
Sway Control Technology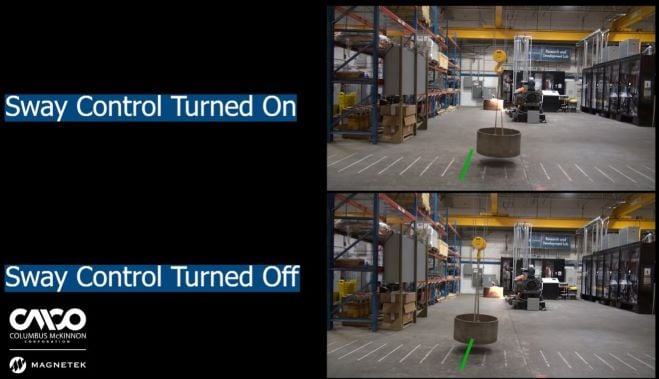 Swinging loads are not only dangerous for your employees but can damage equipment, resulting in costly repairs and downtime. With sway control in place, the operator can traverse the load while the system keeps the load steady. This allows them to concentrate on lifting and lowering the load without having to control the swing that occurs while the load is moving. It can also help improve the accuracy of load placement and reduce material damage caused by incidental contact of swinging loads.
Sway control technology is easy to install and program. Our Magnetek® Sway Control System (SCS®), for example, is embedded in a variable frequency drive (VFD) and can be set up and programmed without the need for an external programmable logic controller (PLC).
Watch our Sway Control Demonstration
This is where off-center pick prevention technology can help. Using sensors and a status control enclosure box, off-center pick prevention systems, like Magnetek Intelli-Lift™, for example, can activate lights and a warning horn if a side-pull or off-center pick is detected. This allows the operator to manually align the load or use technology built into the system to align the load for them.

Hoist Synchronization
When there's a need to synchronize multiple hoists on a single bridge, hoist synchronization technology makes it easy. This software allows you to synchronize the VFDs on each hoist to precisely control their motion. This prevents the operator from making an uneven lift, increasing both operator and facility safety.
Hoist synchronization software is ideal for operating multiple hoist applications independently or synchronized, as well as synchronizing multiple trolleys on a single bridge or multiple motions between two or more cranes.
VIEW DRIVE SYNCHRONIZATION SOFTWARE
Collision Avoidance
Limiting the risk of collisions means increased operator safety, lower maintenance costs, and improved productivity and uptime. Collision avoidance technology can help by preventing crane-to-crane or crane-to-wall collisions in your facility.
Collision avoidance systems can be used with all types of cranes with either VFDs, soft starters, or contactor controls and can be customized with the functionality needed for the specific application. Our Magnetek LaserGuard™ Mini collision avoidance system, for example, enables you to program distances directly on the laser with a PC application. With a dual set-point sensor, an initial slowdown point, and a stopping point, the system effectively protects against collisions in your facility. More technologically advanced options feature self-monitoring optical lasers that automatically check and relay required adjustment information to cranes to prevent collisions.
No-Fly Zone Technology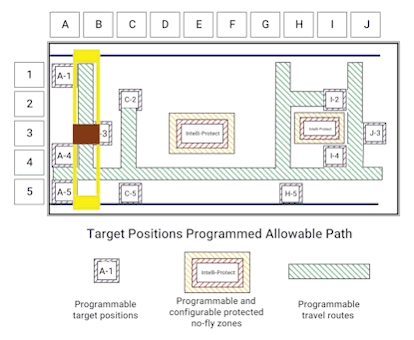 No-fly zones refer to protected areas where normal crane operation is limited or entirely restricted. No-fly zone systems allow you to designate locations where a crane is programmed to slow down or stop, using motion control products such as variable frequency drives, radio remote controls, limit switches, and sensors. These systems — ranging from simple configurations to the more complex — can be added to existing crane controls or new installations, limiting the risk of collisions, increasing safety, and improving facility throughput.
Depending on the technology, these systems can be easy to set up and configure. For example, Magnetek Intelli-Protect® Systems No-Fly Zone Technology allows for full configuration of a no-fly zone system from any portable electronic device, like a smartphone or tablet. And, the system is wireless, allowing you to set or change parameters and active zones right from the plant floor as changing process, plant, or crane conditions require.
Columbus McKinnon offers pre-engineered and custom overhead lifting solutions that include all this technology and more. Contact us today for information on how you can utilize overhead crane safety systems in your facility to keep your workers safe and improve productivity and uptime.