A Message From Our CEO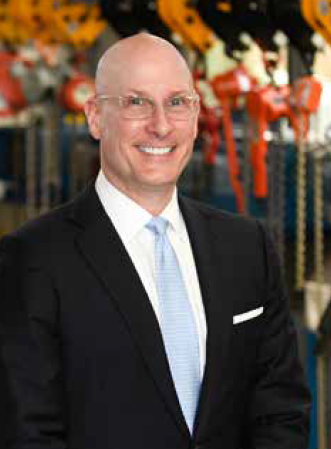 I am quite proud of the accomplishments of Columbus McKinnon in Fiscal Year 2023 and very excited about the Company's future. Our success this past year was the direct result of our hardworking, dedicated employees for whom I am very thankful. In the face of many challenges and adversities, we delivered on our commitment to provide quality, professional-grade, intelligent motion solutions in material handling that move the world forward and improve lives. We also continued to expand upon and evolve our "Beyond the Blueprint" strategy as we unlock our potential through our Core Growth Framework, which is focused on strengthening, growing, expanding, and re-imagining our core. Our strategy drives the transformation of our business through product and market diversification, organic and acquisitive growth, and leveraging macrotrends that we believe support greater secular growth. In addition, to elevate collaboration and further drive efficiencies and productivity, we reorganized to a regional structure during the year. This reorganization has already improved the way we communicate and deliver for our customers, making it easier for them to do business with us.
While change is inevitable, what we hold constant is our focus on being responsible to our stakeholders – our employees, our customers, our communities, and our shareholders.
Sustainability, or more broadly, ESG, is integrated into almost every aspect of our business, our strategy, and our daily work. We have a solid, sustainable foundation from which we can continue to build greatness provided by our long history, our people, and our Values. For us, it's easy because ESG is embedded in our Purpose – moving the world forward and improving lives. We live it every day.
Since I joined Columbus McKinnon in June of 2020, we have made great strides in formalizing and sharing our environmental and social progress and commitment to strong governance processes. We are very transparent about our environmental commitments and have taken the measurable step of sharing our full emissions profile. Beyond emissions, I am especially impressed with the work of our Global Green Teams and their success in the areas of energy management and waste reduction. We are committed to equity in all areas of our business and continue to advance socially with our many employee programs aimed at building a strong culture and driving employee engagement. We integrate these efforts through our governance processes. Based on feedback from our employee engagement survey, we have made substantial changes and improvements in how we communicate with our employees about business updates and our ESG initiatives, including newsletters, management meetings, and employee town halls.
Progress is measured through feedback, so we are frequently soliciting feedback from our employees, customers, shareholders, and business partners to better understand their expectations. I am excited to be a part of such a great company, and I truly look forward to great things for Columbus McKinnon in the coming years.
-David J. Wilson, President and CEO