Operational efficiency and streamlined production processes are critical to businesses around the globe. Columbus McKinnon and its dedicated Automation Division are working side by side with customers to leverage automation technology to improve their safety, productivity and uptime.
Combining advanced products and technology with over a century and a half of application expertise, we are helping to solve tough customer problems through efficient and reliable automation systems. These systems not only enhance system analytics and diagnostics, but also help prevent equipment damage through simplified maintenance, troubleshooting and operation.
We'll partner with you every step of the way, from project evaluation to aftermarket support, to ensure your application needs are met – every time.
Contact Our Automation Division To Discuss Your Application Today
What is automated material handling?
Automated Material Handling (AMH) refers to using various automated systems and technologies to handle, move, store, and transport materials or products within a manufacturing, warehousing, or distribution facility. The goal of AMH is to streamline and optimize material flow, increase efficiency, reduce costs, and improve safety.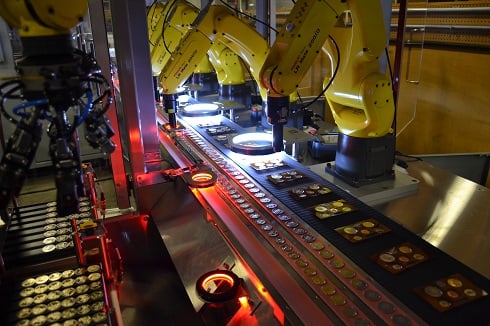 AMH systems can include a wide range of automated equipment and technologies, such as conveyors, robotics, automated storage and retrieval systems (AS/RS), sortation systems, and AGVs (automated guided vehicles). These systems can be programmed to handle various tasks, from simple transportation of goods to complex material handling processes, such as order picking, sorting, packing, and palletizing. The benefits of automated material handling include increased productivity, reduced labor costs, improved accuracy, better inventory control, and enhanced safety.
Why is automation used in material handling?
Automation is used in material handling for several reasons, including improving efficiency, reducing costs, and increasing safety. By automating material handling processes, companies can minimize the risk of human error, optimize workflow, and reduce the time required for tasks like loading, unloading, and transporting goods. Additionally, automated material handling systems can help companies across all industries handle larger volumes of materials faster and more accurately, leading to increased productivity and profitability.
What are examples of automated material handling products?
Columbus McKinnon's automated crane systems are designed to improve your facility's safety, uptime, and productivity. Automation technology not only allows you to build safety into equipment, such as no-fly zones and off-center pick prevention, but also enables you to obtain real-time information and data that helps you improve operational efficiency and make smarter decisions more efficiently.
Featured Solutions & Industries
Our automated crane systems are designed to improve safety, uptime and productivity in your facility. Not only does crane automation technology allow you to build safety right into equipment with no-fly zones and off-center pick prevention, it also provides you with real-time data and information that enables you to improve operational efficiency and make smarter decisions, faster.
Explore Our Crane Automation Systems
Columbus McKinnon's Unified and Magnetek brands bring more than 20 years of experience in delivering automated systems to the automotive industry. Our high-technology solutions are featured throughout the automotive manufacturing process, including ergonomic and autonomous workstations like ProPath™ and Intelli-Guide™.
Explore Our Automotive Automation Systems
Columbus McKinnon offers intelligent solutions from ceiling to floor for all types of manufacturing applications. From industrial actuators to industrial automation systems, we are here to help you increase your facility's safety, uptime, and productivity.
Automation Solutions for Manufacturing
Intelligent motion solutions build safety right into the steel handling equipment, systems, and processes running in the steel mill, helping you keep operators safe and better informed of system status, equipment life, and so much more. We understand the importance of working efficiently and strive to develop solutions that enable you to do so.
Automation Solutions for Metals Production
Automation Solutions Throughout CMCO
Columbus McKinnon offers diagnostic solutions that enable easy and fast programming, maintenance, monitoring, and troubleshooting of your system. These advanced diagnostics provide critical information such as equipment status, positioning and motion, and energy usage to ensure your products and system work efficiently.
Learn More About Hoisting & Lifting Solutions
Dorner, a Columbus McKinnon brand, specializes in creating automation-driven conveyance solutions. Their 2200 Series Precision Move Pallet System conveyor and FlexMove Pallet Systems are cutting-edge pallet traffic management systems and have been specifically developed to enhance productivity, minimize downtime, and offer precise conveying.
Learn More About Our Conveyance Solutions
By integrating Duff-Norton's durable actuators with modern variable frequency drives (VFD), our SPA Linear Actuator with Intelli-Motion™ Technology provides a plug-and-play control system for industrial material handling applications. To maximize the potential of a motion system, it is crucial to find a linear actuator that operates efficiently, safely moves loads, and meets the desired speed requirements.
Learn More About Our Linear Motion Solutions
Intelli-Connect enables quick and easy programming, maintenance, monitoring, and troubleshooting of overhead cranes and hoists. Using the Intelli-Connect Mobile App, you can access detailed information right from the plant floor. With diagnostic information available at your fingertips, you can address issues more quickly, plan maintenance, and ultimately reduce downtime.
Learn More About Intelli-Connect
Combining radios, drives, motors, brakes, and automation programming, Intelli-Guide™ allows operators to automatically send a load to different pre-programmed areas in a facility with the push of a button. Then, as the load moves to the programmed destination along a determined route, the operator can work on a different task or start on the next step of the production process, increasing productivity and efficiency.
Learn More
Featured brands
With a family of trusted global brands, Columbus McKinnon products leverage our company's rich history of industrial manufacturing to revolutionize the future of lifting and motion control.