Magnetek-Brand Intelli-Connect Diagnostics and Analytics Wins 2022 Readers' Choice Award
Intelli-Connect Wirelessly Provides Advanced Diagnostics and Analytics to Enable Predictive Maintenance and Increase Uptime
Manufacturing | Automation | By Columbus McKinnon | Dec 12, 2022
---
We're excited to announce that Columbus McKinnon's Magnetek-brand Intelli-Connect™ Diagnostics and Analytics technology is a recipient of a 2022 Material Handling Product News and MaterialHandling247.com Product of the Year Readers' Choice Award. With over 5,700 votes cast, readers awarded this achievement to advances in material handling systems and equipment within manufacturing, distribution centers, and warehouses.
Why did they choose Intelli-Connect? Intelli-Connect provides quick and easy access to essential hoist and crane performance information via a tablet or smartphone. This information gives users the ability to manage equipment 24/7, which helps increase uptime and improve productivity.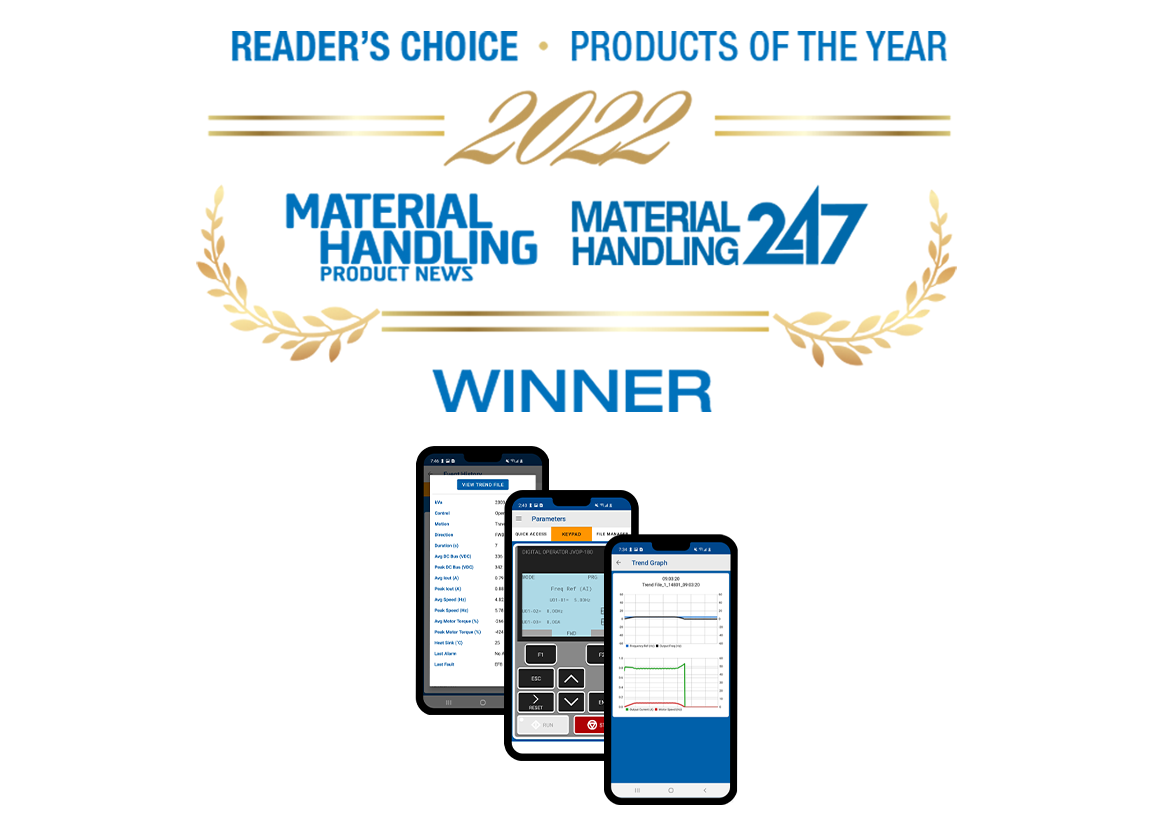 Intelli-Connect is comprised of a wireless operator module mounted on a control panel that is connected to a single Magnetekâ variable frequency drive (VFD) on a hoist or single crane motion via a CAT5 Ethernet cable. The wireless operator creates a wireless network, which is accessible from a personal electronic device (PED), such as a smartphone or tablet. Once linked, Intelli-Connect enables quick and easy programming, maintenance, monitoring, and troubleshooting of VFDs associated with a hoist or crane motion. Intelli-Connect wirelessly delivers this critical status information from a Magnetek VFD on a crane or hoist to the Intelli-Connect Mobile and Mobile+ apps.
Using the Intelli-Connect Mobile or Mobile+ Apps, users can access detailed information right from the plant floor. With this information at their fingertips users can more effectively plan maintenance, reduce their mean time to recover (MTTR), and ultimately increase uptime in their facility. This information is readily available without the hassle and downtime associated with physically accessing the hoist or the drive at the top of an overhead bridge crane. Additionally, the Intelli-Connect wireless operator that is mounted on the outside of a panel alleviates most instances in which a maintenance person would have to open a live panel to access a VFD, eliminating the risk of arc flash (the result of a short circuit electrical arc through the air or a gas).
Intelli-Connect is ideal for all types of overhead crane applications in industries including power generation, automotive, aerospace, metals, pulp and paper, and much more. The Intelli-Connect Mobile app is available as a free download on Google Play or the Apple® App Store®. Users can upgrade to Intelli-Connect Mobile+, which provides more in-depth information and functionality, for a one-time fee through the app.
Contact us for more information on how Intelli-Connect can benefit you
Google Play is a trademark of Google LLC. Apple and App Store are registered trademarks of Apple Inc., registered in the U.S. and other countries