Low-Headroom Hoist Solution for Baby Formula Maker
Chemical Food Processing | Hoisting & Lifting Equipment | By | May 23, 2018
---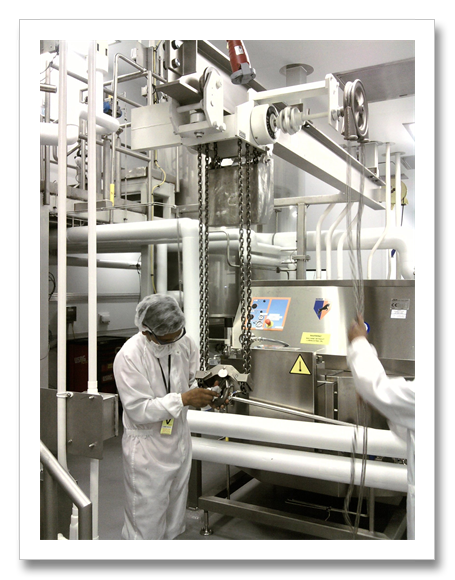 Producing baby formula is no easy task especially when considering equipment maintenance in a clean room environment. This baby formula maker in Malaysia had some tough requirements. They needed a hoist/trolley combination for 2200 lbs. capacity with a very low headroom profile (less than 8″). In addition, this producer needed a hoist that would allow the operator to stand clear of the processing equipment, more than 24″ to the outside of the centerline of the monorail beam, when operating the hoist.
In a facility producing baby formula, maintaining a clean and sterile environment is top priority. The hoist had to be corrosion resistant and suitable for wash-down.
Our Chester Hoist facility had the opportunity to design and manufacture an ultra-low headroom manual chain hoist with a special extended hand chain wheel mechanism that addressed their concerns. The hoist was equipped with the following stainless steel components: lifting hook, hook block, load chain, hand chain, hand chain & load chain wheels, chain container, trolley wheels, hand chain guides, and brake ratchet. It was also equipped with food-grade lubricant and food-grade epoxy paint on the hoist body.
The end result was a perfect low headroom solution for this critical lifting application.
Request a Quote on the Zephyr Hand Chain Hoist with Low Headroom Trolley