Automation | Crane Systems | Inspection & Maintenance | Hoisting & Lifting Equipment | Safety and Training | By Jim Kluck | Oct 07, 2021
As cranes and crane controls have become more sophisticated, so too has the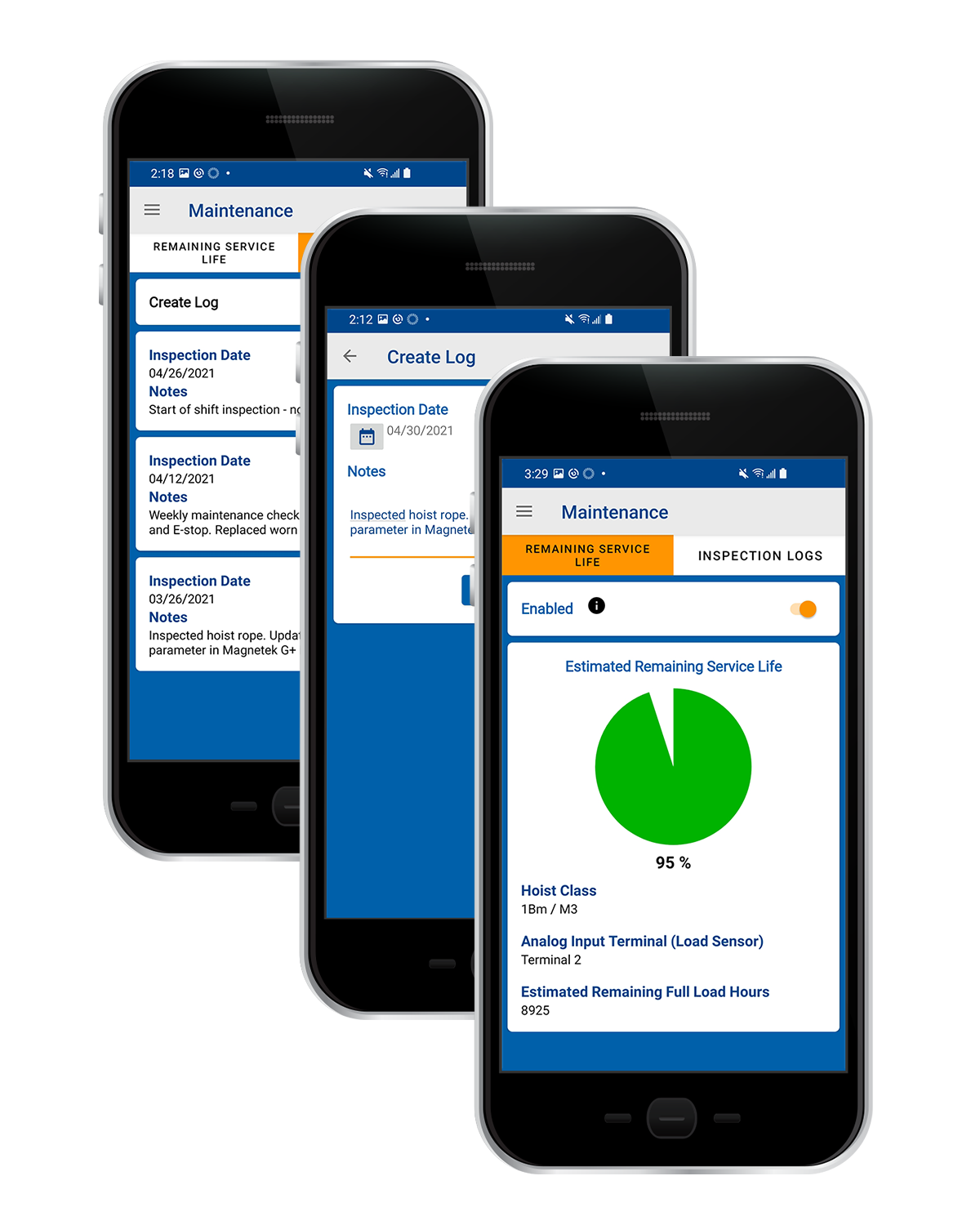 information we can obtain from them. Not only do cranes lift and move materials that we as humans cannot, they also provide a wealth of information about the equipment and the load being moved. When equipped with crane monitoring technology, cranes can help us determine when maintenance or component replacement is needed or if the crane is at the end of its productive life. It can also enable quicker troubleshooting if something does go wrong. That's why analytics and diagnostic systems are becoming more and more popular as facilities look for additional ways to increase their productivity and improve the safety of their operations.
When you connect to an overhead crane or hoist, whether by wired or wireless methods, you can access a comprehensive view of your machine and track operation trends over a period of time. In modern production processes in a variety of different industries, information and communication systems collect operating data and enable the analysis of usage behavior, material wear, and safety information. System feedback allows for planned maintenance to minimize downtime and maximize efficiency. Plus, diagnostic information delivery is now faster than with previously available tools, providing you with actionable information quicker than ever.
Crane components can be linked to enable communication and interaction between people, machines, plants, processes, and products – turning rigid production steps into flexible value-add networks. Data from sensors, systems, and processes can be recorded, processed, shared, and evaluated in real-time. With diagnostic information available at your fingertips, you can address issues more quickly, plan maintenance, and ultimately reduce expensive downtime due to unexpected equipment failure.
There is increasing demand for hoist intelligence to enable diagnostics, troubleshooting, and data gathering from remote locations. Columbus McKinnon's Intelli-Connect™ Mobile and Mobile+ diagnostics and analytics apps enable quick and easy programming, maintenance, monitoring, and troubleshooting of overhead cranes and hoists. Available as a standalone system or a pre-engineered option with some of our most popular crane kits, Intelli-Connect diagnostics and analytics provide critical information, such as signal monitors, equipment status, and energy use, to keep your overhead crane and hoists functioning effectively.
By incorporating this technology into an overhead crane or hoist, you can proactively monitor and schedule maintenance to ensure you have the necessary parts and support available when you need it. If your system does go down unexpectedly, crane monitoring technology can help reduce your mean time to recover (MTTR). Additionally, Intelli-Connect is wireless. The wireless operator creates a wireless network, which is accessible from a smartphone or tablet. Once linked, Intelli-Connect Mobile enables quick and easy programming, maintenance, monitoring, and troubleshooting of variable frequency drives (VFDs) associated with your hoist or crane motion. The wireless operator connects to Magnetek® VFDs in your crane's control panel and delivers information to the mobile device, so you can readily access information from the plant floor without the hassle and downtime associated with physically accessing the drive on a hoist or overhead crane.
Crane monitoring technology, like Intelli-Connect, gives you added intelligence and information to keep your equipment and operations running smoothly. Contact us today for information on how you can utilize this and other overhead crane monitoring systems to keep your workers safe and improve productivity and uptime.