Construction | Aerospace | Chemical Food Processing | Automotive Industry | | Hoisting & Lifting Equipment | Automation | By Bryan Holby | Mar 08, 2022
Incorporating automation can have a significant impact on a facility. Not only can automation help increase productivity and maximize the uptime and performance of operations, but it can also improve product quality, increase energy efficiency, and provide numerous safety and health benefits. When people think of automation for cranes and hoists, they often think of automating crane and hoist movement in a facility. But, there is another important benefit automation technology can provide – the ability communicate directly with the hoist or crane as well as collect, monitor, and analyze performance data.
The Industrial Internet of Things (IIoT) revolves around products and systems that provide data and insight into how equipment is being utilized and how it can be proactively maintained. "Smart" technology like this allows you to predict and prevent problems or breakdowns before they occur and ensure maintenance schedules are up to date. Having access to operating trends and tracking usage data is key to ensuring maintenance teams and replacement parts are available when necessary, reducing the amount of time equipment is inoperable. And, if a system does go down unexpectedly, diagnostics and analytics can help reduce mean time to recover (MTTR) since operators can diagnose the problem much faster. Incorporating smart technology and adding intelligence to systems enables diagnostics, troubleshooting, and data gathering 24/7, 365, so you can keep your operations running safely, efficiently, and productively at all times.
So, what problems can be solved by incorporating diagnostics and analytics into your chain and wire rope hoist applications?


If my chain or wire rope hoist goes down, I lose time and money.
With wireless communication and feedback capabilities incorporated into your systems, you can access detailed variable frequency drive (VFD) status information from your hoist and proactively monitor and schedule maintenance to ensure the necessary parts and support are available when you need them.

It can be difficult to access my hoist's VFD to download usage data or make adjustments. Plus, I need to shut down the equipment,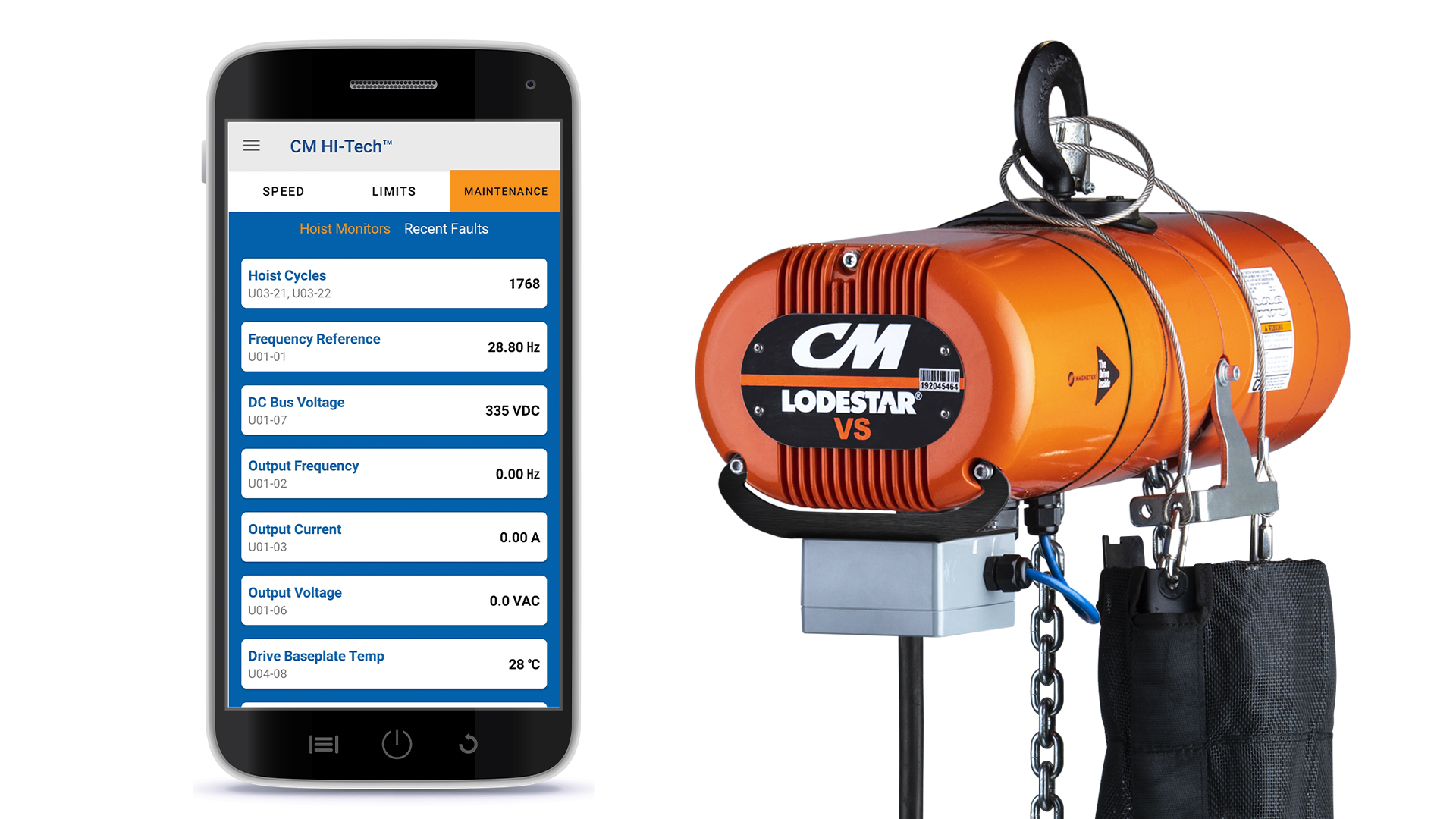 slowing material production.
Certain wireless solutions, like Columbus McKinnon's Intelli-Connect™ diagnostics and analytics technology, create a unique network that can be accessed via smartphone or tablet. You no longer need to climb up to the hoist, power down, and connect hardware to access VFD status information. This eliminates potentially hazardous situations when climbing up to the hoist to either remove it from service or connect a cable to view the information. It can also allow you to program your hoist and adjust parameters without having to stop operation and slow down production.
Download The Intelli-Connect App Today

If a fault occurs, it can take a long time to diagnose the problem and fix it.
By incorporating advanced diagnostic technology, you can get insight into critical operating information, such as signal monitors, equipment status, energy use, and even visibility into how much longer your hoist can operate effectively. The Intelli-Connect Mobile+ app, for example, provides a comprehensive view of systems by monitoring runs, faults, alarms, and VFD status, including fault codes, motor voltage, current, and more, so you know exactly how your equipment is running. Some wireless solutions even allow you to access user manuals and contact service teams with any service or troubleshooting questions.

As a safety precaution, crane service technicians are not allowed to accompany the crane to troubleshoot nuisance problems.
Designed to provide wireless access to operators or technicians on plant floor, many of these solutions eliminate the need to go up on equipment or take down the hoist, connect the hoist to a PC, and download information. With our Intelli-Connect technology, data is automatically logged in onboard memory storage or on a PC. This allows the service tech to monitor the parameters real-time as the hoist operates or download the data and trend files and view them on a graph to help troubleshoot the problem.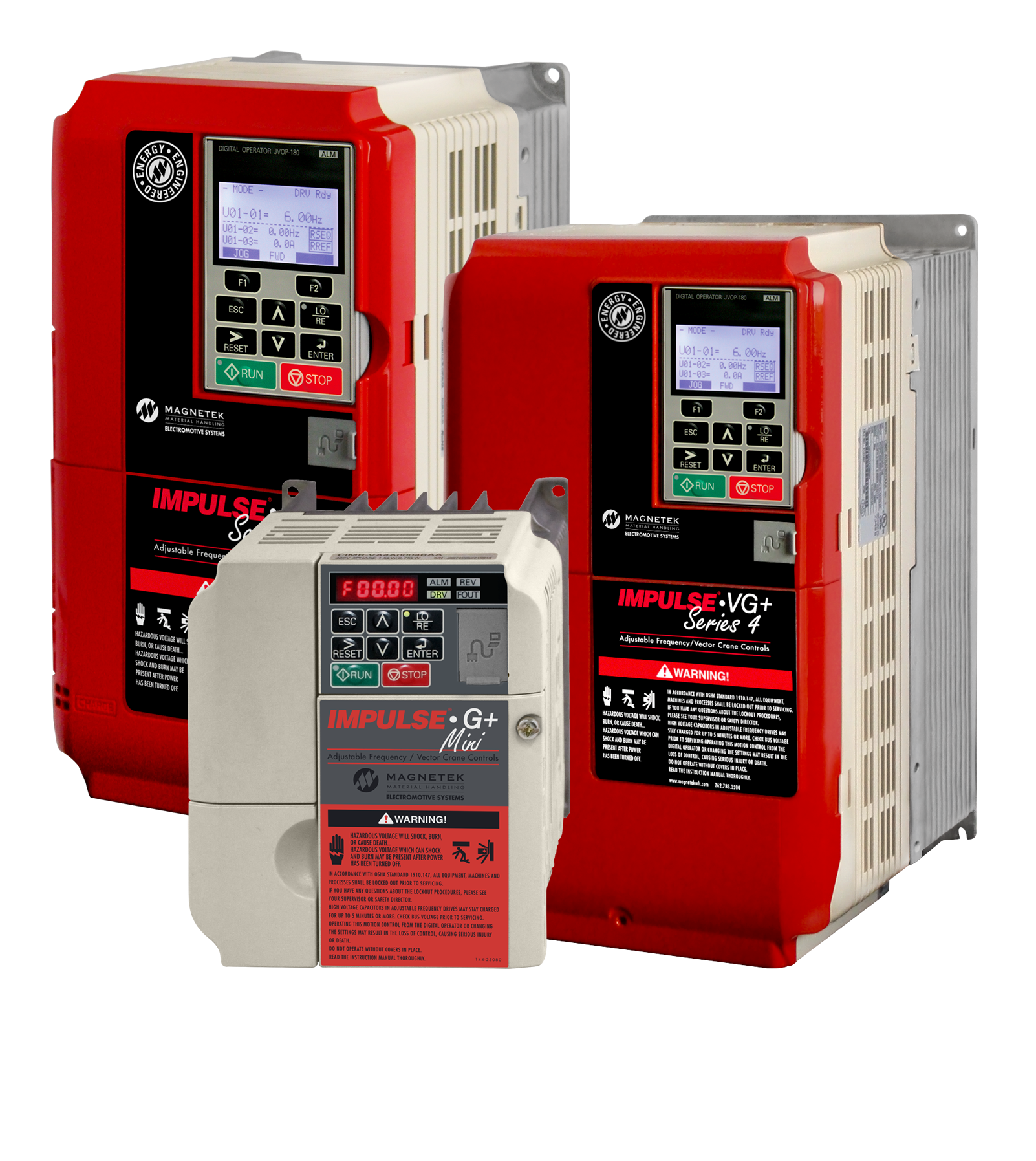 I'm not sure if diagnostics and analytics can be incorporated into my system.
In particular, Intelli-Connect can be combined with any electric wire rope or chain hoist, including select Columbus McKinnon models, that utilize IMPULSE®•G+/VG+ Series 4 or IMPULSE®•G+ Mini VFDs. New or existing hoists utilizing Magnetek® VFDs can be enhanced with Intelli-Connect, giving you added intelligence and information to keep your equipment and operations running. If an existing application already operates with a Magnetek VFD, Intelli-Connect can be installed with a remote mounting kit.


Contact Our Automation Team To Discuss Your Application Today