ATEX-compliant Solution for Natural Gas Filter Change in Shimmering Heat
Mining, Petroleum and Gas | Crane Systems | Power & Motion Technology | By Columbus McKinnon Training | Apr 10, 2012
---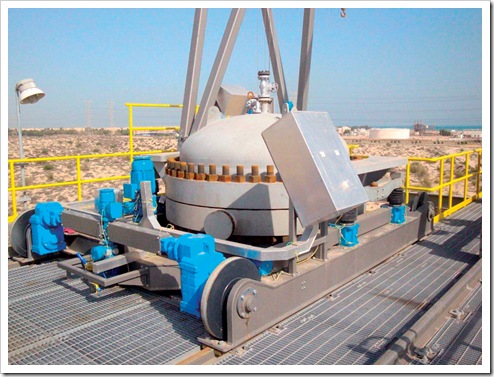 For natural gas filter towers in the Saudi-Arabian desert, our German branch, Columbus McKinnon Engineered Products GmbH has developed and installed a special lifting and traversing system for changing filter elements. This involves the use of 19 specially designed trolleys in three different sizes and eight gantry cranes made from ATEX-compliant lifting elements and electric wire rope winches from Pfaff-silberblau. This extremely heavy-duty special solution is capable of withstanding temperatures of up to 50 degrees Celsius (122 degrees F), sand and dust and even the explosive environment.
ATEX-compliant solution
The natural gas produced in the Saudi-Arabian desert is refined directly on site into a clean and effectively burning fuel by means of special filtration processes. The filter stations used for this process consist of two to four towers with an approximate diameter of three meters (9.84 ft) and a height of up to 24 meters (78.7 ft). These contain filter elements that have to be changed at regular intervals. The motion technology solution from Columbus McKinnon Engineered Products ensures that the covers on top of the towers (each weighing 16 US tons) can be safely lifted up and moved for access to the filters.
Mobile trolleys and cranes
Our engineers installed a crane for each filter station on 24 meter (78.7 ft) platforms. The cranes move on traversing rails over the towers, along with a trolley per tower, which is also moved on rails.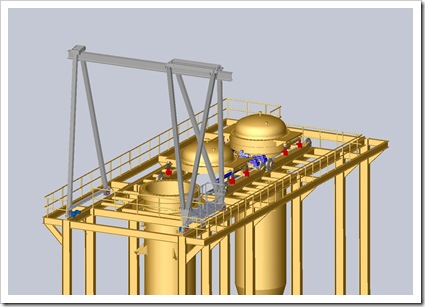 During inspection, the dual drive trolley moves into position at the tower cover. The gantry crane, equipped with two BETA electric wire rope winches from Pfaff-silberblau, lifts the 16 ton cover and places it on the trolley where it is locked securely in place. The trolley and cover are moved away from the tower and the crane removes the contaminated filter. Once the old filter is extracted, the crane travels to the area where it can be lowered to the ground. A new filter is hoisted and put into place. The cover is moved back to the tower by means of the trolley and fastened securely.
Columbus McKinnon Engineered Products and the client worked together for nine months on planning and designing this system. The entire project from start to finish took one year to complete.
The wire rope winches and lifting elements from Pfaff-silberblau used in the Saudi Arabian natural gas refinery comply with the stringent category 2 requirements of the ATEX Directives 94/9/EC and 99/92/EC, which also govern equipment used for lifting, lowering, pushing and compressing loads in plant engineering, navigation, sewage treatment plants, and chemical and food processing industries.
Current information and checklists pertaining to ATEX-compliant motion technology products from Pfaff-silberblau are available online at www.pfaff-silberblau.com/AT-Brochures.
A big thanks to our German office, Columbus McKinnon Engineered Products GmbH, for submitting this application story to our blog!