Keep up with frequent and periodic inspections of your rigging and hoists. You can find details on what is required for frequent and periodic inspections in your Lodestar Manual, as well as in the ANSI E1.6-2-2013 standard. Download this, and other standards, for free here.
Like many riggers, synthetic slings are super strong, but also very sensitive to being rubbed the wrong way. Always take a moment to inspect your rigging before and after use. The scuff mark on this sling was an indication to examine for other damage. If you can see the core material, then it is time to retire the sling. Sling inspections are 50% visual and 50% tactile.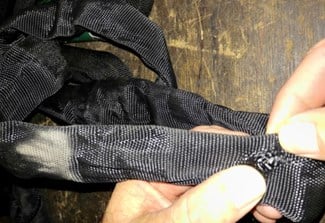 Working safely at height requires constant attention to detail. Before getting into a high reach, or any type of aerial work platform, take a few minutes to do a pre-operational inspection of the equipment. Whether the damage in these pictures occurred from corrosion or a single incident, it is an indicator that there may be other unseen problems with this machine.
Some days you never know what nature is going to put in your path. While our own safety is paramount, it is also important to look out for those who cannot do so for themselves. Be nice to our little furry and feathered friends. Find a gentle way to help these birds relocate to a more suitable home.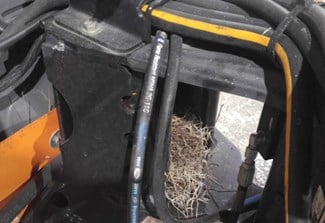 Rigging to the low steel and need maximum trim height? Using a beam clamp is a more practical alternative than rigging with wire rope slings when you have to get tight up to that beam. Remember to check for compatibility between rigging attachments and their respective capacities.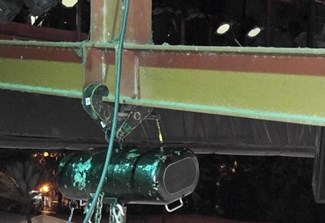 Hooks are designed to take load in the "saddle" or "bowl". The safe working load of a hook can be severely reduced when loads are applied to the tip. While this example may or may not lead to a failure, it still begs the question of what other shortcuts or missteps may have been taken during this installation? Will that loose piece of sash cord get sucked into the hoist? Safe rigging is all about attention to detail.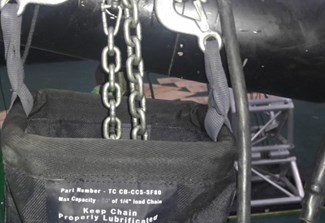 Do you know which voltage setting your CM Lodestar is set for? It only takes a minute to pull the cap off and check. Most entertainment applications will use the low voltage option. Luckily, Lodestars are equipped for dual voltage options. These days, it is even easier to switch, when you have to. It's plug and play!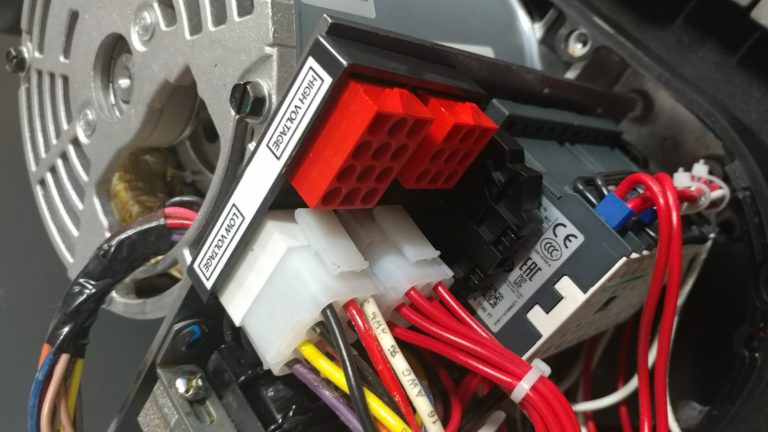 Using a clove hitch on the chain, 6-12 inches below the hook, can make it much easier to clip into your rigging point. With one hand (or foot) on the rope, the other is free to complete the attachment. Also, there is no chance for the rope to get pinched between the hook and shackle. Always remember to back up that clove hitch with a half hitch on top to prevent roll-out.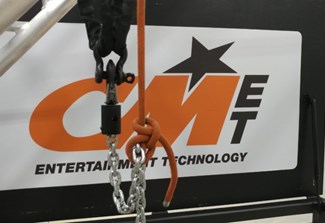 Portable truss towers have become very popular in recent years. They are easy to erect and can be installed quickly with a small crew. Three important safety considerations for these systems are:
Evaluation by an engineer for site-specific considerations and high wind action plans.
Maintaining weather monitoring systems, so prompt action can be taken should inclement weather occur.
Securing the load from swinging with proper rigging hardware. The lever hoists, in this example, are also being used to focus the speakers.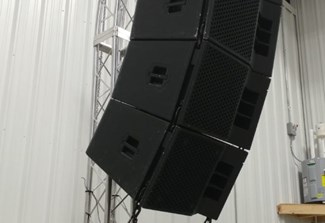 The personal protective equipment we use is only effective if we inspect and care for it properly. Before putting on that harness or lanyard, take a moment to inspect all of the stitching, buckles, and attachments.
Make it a habit to do "buddy checks" with your co-workers too. A second set of eyes may see something yours did not. If it doesn't look right, don't use it.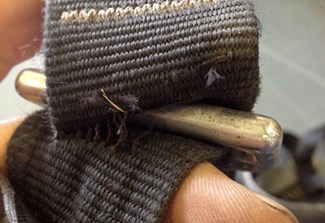 No matter how much you already know, there is always room for more training. The culture of our industry is more focused on training than ever these days. Whether you find that training online, on the job, or in a classroom, never be afraid to ask questions. The more knowledge we have, the safer we, and those around us, will be. #rigsafe